6
Unique Features of RWI by Oxford
1
The Preferred Programme by Oxford
Developed in the U.K., RWI by Oxford has been widely adopted by teachers and students in the Great Britain. First introduced by OUP to Hong Kong over a decade ago, this pioneering programme taught by experienced teachers has been highly acclaimed by parents.
2
Strengthening Listening, Speaking, Reading and Writing Skills Progressively
Designed for children aged 3 and above, this comprehensive programme covers listening, speaking, reading and writing with 44 pure sounds to improve children's English literacy and unleash their language potential. The systemic programme focusing on blending and segmenting accelerates the learning process significantly.

3
Fun and Effective Learning
The easy-to-use and interesting learning tools in the learning kit help children acquire knowledge easily.
4
Build New Vocabulary through Blending and Segmenting
The blending and segmenting of words using pure sounds let children read, spell and write with full confidence.
5
Learn Common and 'Tricky' Words
Students learn to spell and read common and 'tricky' words, enhancing their comprehension skills and vocabulary.
6
Work in Pair to Deepen Understanding
Pair learning enables students to improve pronunciation and practice difficult words together, strengthening their self-learning and cooperation abilities while enjoying the fun of learning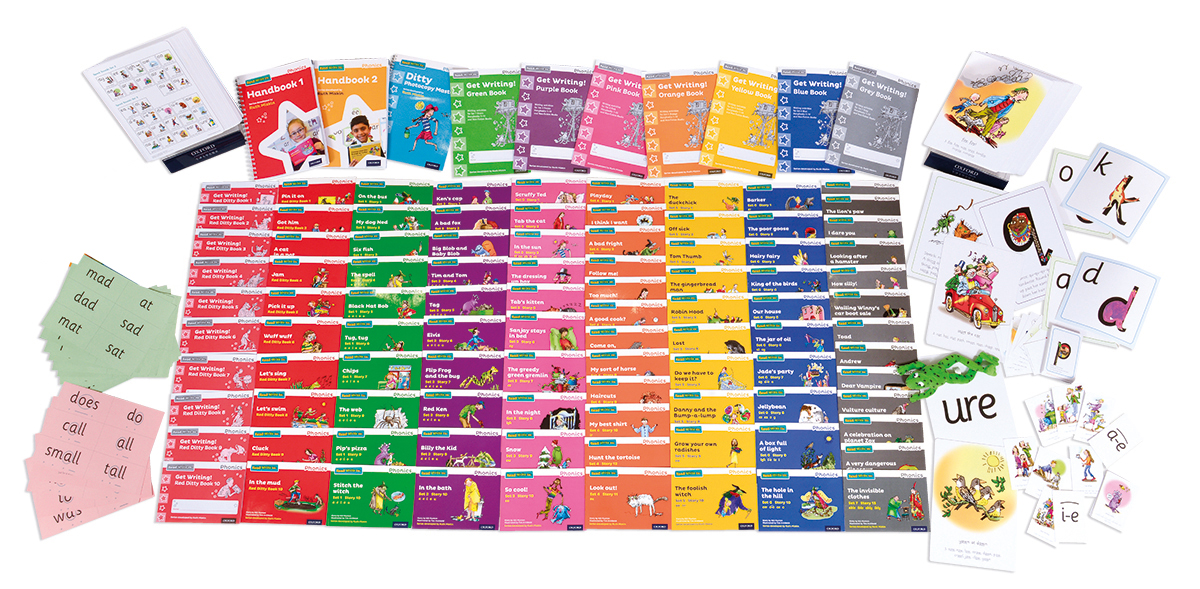 Oxford University Press is the sole recognized publisher of Read Write Inc. teaching materials. The comprehensive RWI course materials provide an all-rounded support to students and teachers with teaching materials suitable for different learning stages.
Teaching materials: Speed Sounds Cards, Teacher Handbook, Desktop Speed Sounds Chart, Green Word Cards, Red Word Cards and Speed Sounds Poster
Learning materials: Storybook and Get Writing!
Astounding Learning Results in the UK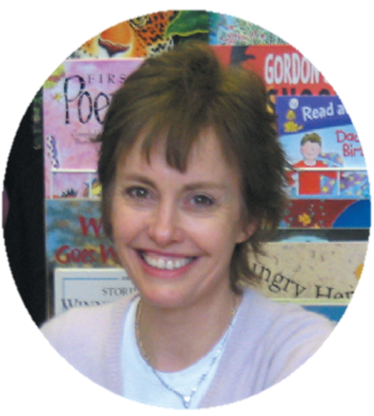 Developed by Ruth Miskin, this comprehensive programme is specifically designed for children aged 4 and above, emphasizing the integration of listening, speaking, reading and writing skills to improve children's literacy in English. The programme begins with teaching blending and segmenting skills to improve children's ability to read and spell. RWI by Oxford systematically helps develop children's writing and comprehension skills, ultimately aiming to groom children into effective readers and strong writers of English through pure sounds, storybooks, and creative writing tasks.
Blending and Segmenting of Pure Sounds
Pave the Way to English Literacy
From Reading to Writing
Nurturing the Young Authors
The RWI by Oxford programme includes interesting storybooks that match children's learning progress and encourage them to tell the stories using their phonic knowledge. Fun writing exercises under each chapter also help children excel further and unleash their writing talent.

Programme Structure
Students will be awarded a certificate upon completion of each level.
Level

Course Content

Results

Duration (1 hour/ week)

Early Start

*

Set 1 Sounds

Learn the first set of sounds

≥8 months
*

Suitable for children aged 3 to 4. After completing Early Start, students can proceed to Foundation Level (Stage II) starting with Red Ditty Storybooks.
Level

Course Content

Results

Duration (1 hour/ week)

Foundation Level
(Stage I & II)
Set 1 Sounds
Red Ditty Storybooks (10 books) + Get Writing! (10 books)

Learnt Set 1 Sounds

Able to read Oxford Reading Tree Stage 2 stories or stories of similar level

Able to write short sentences

≥12 months

Foundation Level
(Stage II)

Red Ditty Storybooks (10 books) + Get Writing! (10 books)

≥7.5 months

Elementary Level
(Stage I)
Set 2 Sound
Green Storybooks (10 books) + Get Writing! (1 book)

Learnt Set 2 Sounds and practice Set 1 Sounds (complete 90% of pure sounds learning)

Able to read Oxford Reading Tree Stage 3 stories or stories of similar level

Able to write complete sentences and short passages based on pictures

≥7.5 months

Elementary Leve#
(Stage II)

Purple Storybooks (10 books) + Get Writing! (1 book)

≥7.5 months

Intermediate Level
(Stage I)

Pink Storybooks (10 books) + Get Writing! (1 book)

Learnt Set 3 Sounds and practice other pure sounds (complete 100% of pure sounds learning)

Practice pure sounds learnt

Able to read Oxford Reading Tree Stage 6 stories or stories of similar level

≥7.5 months

Intermediate Level
(Stage II)

Set 3 Sounds Orange Storybooks (12 books) + Get Writing! (1 book)

≥9 months

Advanced Level
(Stage I)

Yellow Storybooks (10 books) + Get Writing! (1 book)

Reading volume increases significantly

Better understanding of pure sounds learnt

Improved reading volume and speed

Able to write longer passages

Enhanced writing skills through grammar, spelling and vocabulary exercises

Able to read Oxford Reading Tree Stage 8 stories or stories of similar level

≥10 months

Advanced Level
(Stage II)

Blue Storybooks (10 books) + Get Writing! (1 book)

≥10 months

Upper-advanced Level

Grey Storybooks (13 books) + Get Writing! (1 book)

Continuous self-learning

Better understanding of pure sounds learnt

Improved listening, speaking, reading and writing competence

Enhanced writing skills through grammar, spelling and vocabulary exercises

Lay foundation for self-learning

≥12 months